Cancers We Treat

Finding Breast Cancer Early
UNDERSTANDING BREAST CANCER

Early Detection

Your best defense against breast cancer is to find it early. Finding cancer before it spreads generally provides more treatment options. Early breast cancer doesn't always cause symptoms, which is why regular breast exams and mammograms are so important.

Knowing your family history and genetics can help catch breast cancer early or allow you to explore preventative procedures, like surgery.

At Baptist MD Anderson, our breast cancer experts follow MD Anderson's model of outstanding patient care, research, prevention and education. Our commitment is to bring world-renowned cancer care close to home.
HOW TO DETECT BREAST CANCER AT EARLY STAGES

Symptoms of Breast Cancer

If you experience these symptoms, see your primary care doctor and ask for an evaluation. Common breast cancer symptoms include:
SKIN IRRITATION OR DIMPLING (SOMETIMES LOOKING LIKE AN ORANGE PEEL)
NIPPLE PULLING INWARD
BREAST OR NIPPLE PAIN
LUMP OR MASS IN THE BREAST
LUMP OR MASS IN THE ARMPIT
REDNESS, SCALINESS, OR THICKENING OF THE NIPPLE OR BREAST SKIN
SWELLING OF ALL OR PART OF A BREAST (EVEN IF NO DISTINCT LUMP IS FELT)
NIPPLE DISCHARGE (OTHER THAN BREAST MILK)
EARLY DETECTION STARTS WITH YOU

Prevention and Screening

More than ever, patients are taking a proactive approach to their breast health. At our Breast Screening and Prevention Clinic, we help women - and men - assess their risk and weigh their decisions for care. For more information or to make an appointment at the Breast Screening and Prevention Clinic.
ASSESSING YOUR RISK

What is a Risk Factor?

A risk factor is based on genes, lifestyle choices, conditions or exposure that may increase your risk for developing cancer. There is no sure way to prevent breast cancer, but there are ways to decrease your risk. Healthy lifestyle choices and even preventive surgery can help you prevent breast cancer.
GENERAL RISK FACTORS
Being a woman
Getting older
Certain inherited genes
Age of first period
Age of menopause
Family history
LIFESTYLE RISK FACTORS
Drinking Alcohol
Being overweight or obese
Lack of Physical Exercise
Not having children or having children later in life
Not breastfeeding
Birth control
Hormone therapy after menopause
Smoking
EVALUATING YOUR HEALTH

Your Care Starts with Screening

Screening is your greatest weapon against breast cancer by improving your chances of finding cancer early on when it is easier to treat. The American Cancer Society recommends yearly screening for all as early as 40.

Your screening exams may include:
Mammograms
Dense-breast program
Breast MRI
Breast Exams
CONVENIENT, COMFORTABLE AND FAST

Regularly Scheduled Mammograms

As the regional leader in comprehensive breast care, all Baptist Health locations offer digital mammograms. The Margaret and Robert Hill Breast Center at Baptist MD Anderson Cancer Center offers digital, 3D imaging and minimally invasive procedures.

To take the stress out of your visit, our breast health services are designed to be quick, convenient and supportive. Locations for our breast health services were designed with your comfort and privacy in mind. With digital mammography, the procedure can be done quickly – something our patients appreciate.
OUR LOCATION

Breast Cancer Clinic

Within our specialized clinics we bring together our team of experts to care for you - mind, body and spirit - all under one roof. Each of our clinics are singularly focused on your specific needs and treatment.

Need Directions? The hematology-oncology clinic is located in the main Baptist MD Anderson Cancer Center on Floor 7 of our cancer center.

For screening and prevention, services are located across the street: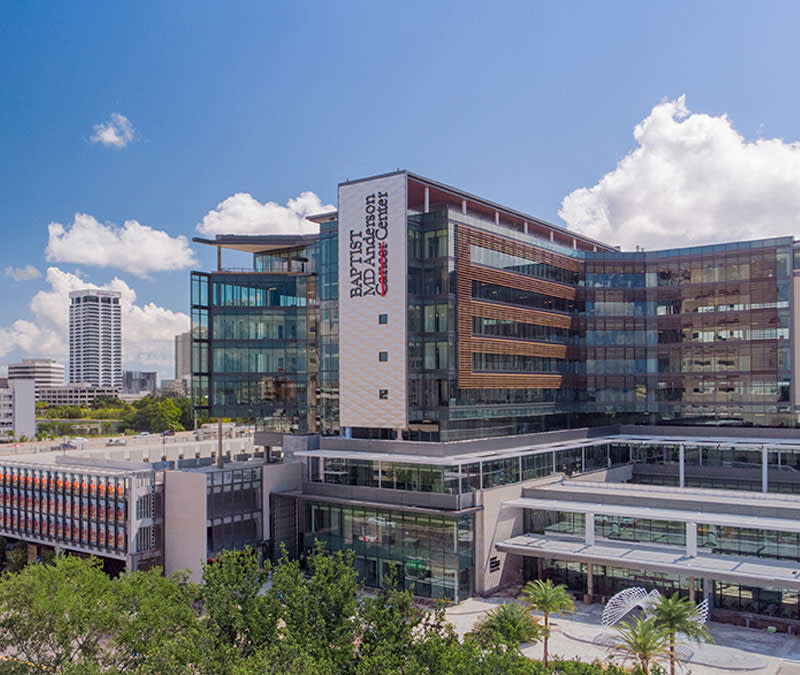 FOR WHATEVER STEP IS NEXT,

Baptist MD Anderson is Here for You

Wherever you are in your journey, we're here to help you in your fight against cancer. Our team of experts can help you navigate the whirlwind of emotions and decisions through every aspect of your care.