Cancers We Treat

Breast Cancer
CARING FOR YOU EVERY STEP OF THE WAY

Our Approach to Breast Cancer

If you or a loved one has recently discovered a lump in the breast, had a suspicious mammogram or been diagnosed with breast cancer, Baptist MD Anderson Cancer Center in Jacksonville is here to offer hope, compassion and care.

Our team of breast cancer experts use the latest technology to precisely diagnose and treat the type and stage of your breast cancer. We offer the most aggressive treatments available, including genetic testing, breast cancer clinical trials and highly-targeted radiation therapy.

As a patient, you'll receive care based on the same protocols and practice standards provided at MD Anderson Cancer Center. Through our partnership, patients also benefit from integration with MD Anderson clinicians and researchers.
---
WHY CHOOSE BAPTIST MD Anderson?

Advanced Treatment & Care

At Baptist MD Anderson Cancer Center, patients benefit from our evidence-based, multidisciplinary approach. That means experts meeting to discuss your specific case and create a personalized care plan for your type of breast cancer.

You will meet with your team of doctors and support staff in one location to make communication between all of your caregivers easy. Your nurse navigator will provide education about your diagnosis, coordinate your appointments, tests and treatments, and offer you and your family support each step of the way.

Your physical, emotional and spiritual needs are important too, so care plans also include support services from social workers, psychologists, physical and occupational therapists, nutritionists and chaplains, as well as survivorship and prevention.
TYPES OF BREAST CANCER WE TREAT
We provide a wide range of treatment options for all types and stages of breast cancers, including:
OUR LOCATION

Breast Cancer Clinic

Within our specialized clinics we bring together our team of experts to care for you - mind, body and spirit - all under one roof. Each of our clinics are singularly focused on your specific needs and treatment.

Need Directions? The breast clinic is located in the main Baptist MD Anderson Cancer Center on Floor 7 of our cancer center.

For screening and prevention, services are located across the street: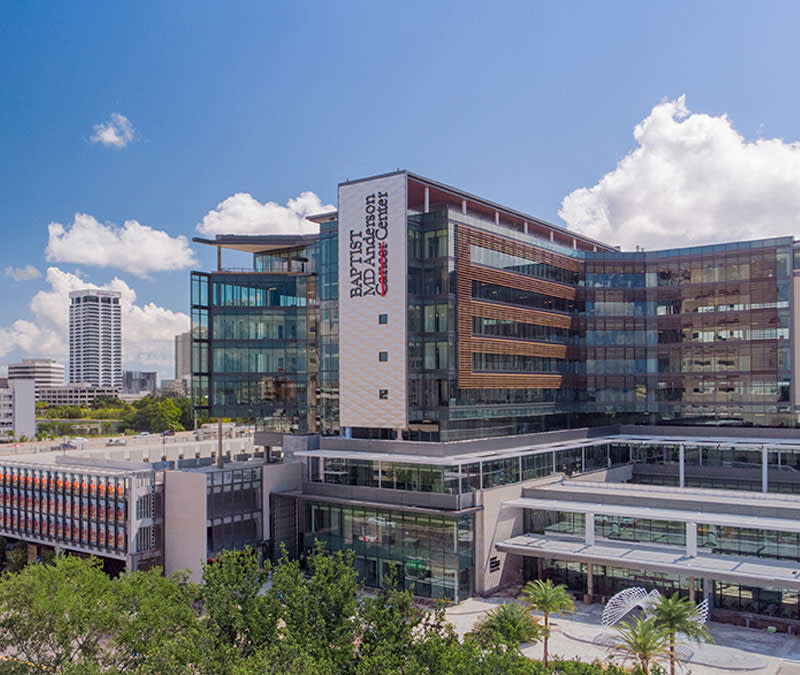 BAPTIST MD Anderson IS HERE TO

Take Care of You

Wherever you are in your journey, we're here to help you in your fight against cancer. Our team of experts can help you navigate the whirlwind of emotions and decisions through every aspect of your care.