Cancers We Treat

Treating Brain & Spine Tumors
CARING FOR THE WHOLE PERSON

Brain & Spine Tumor Treatment

Having cancer is a life-changing experience for each individual patient, and their family and friends. At Baptist MD Anderson, we know the best cancer treatments for brain and spine tumors are those that are tailored specifically to you by a multidisciplinary team.

As part of our approach, patients receive care based on the same processes and practice standards provided at MD Anderson Cancer Center and benefit from integration with MD Anderson clinicians and researchers.

You and your team of specialists work together to choose a cancer treatment plan for you, based on your overall health, the type of cancer, and your own preferences.

Together, we're leading the local fight against cancer.
BRAIN & SPINE TUMORS

Common Treatments

At Baptist MD Anderson, we're ready to fight for you every step of the way. As part of your treatment, you are assigned a nurse navigator, who has specialized training in caring for patients with brain and spine cancer to answer your questions and help you coordinate your appointments.

Your personalized treatment plan will be based on:
The type, subtype and stage of your cancer
Molecular, clinical and genetic features of the disease
Your health history
Your personal goals
Your treatment plan will be designed to improve your quality of life and reduce the risk that your cancer will return. One or more of the following therapies may be recommended to treat your cancer or help relieve symptoms.
Surgery

Surgery is often needed for most primary brain tumors. Some tumors may be completely removed. Those that are deep inside the brain or that enter brain tissue may be debulked instead of removed. Debulking is a procedure to reduce the tumor's size.

Tumors can be hard to remove completely by surgery alone. This is because the tumor invades surrounding brain tissue much like roots from a plant spread through soil. When the tumor cannot be removed, surgery may still help reduce pressure and relieve symptoms.

Chemotherapy

Chemotherapy uses drugs to kill cancer cells. Chemotherapy drugs can be taken in pill form or through a vein. Chemotherapy may be used before surgery to shrink the tumor, making it easier to remove, or may be used after surgery to kill any cancer cells that might remain. It is sometimes combined with radiation therapy for aggressive cancers. For people who can't undergo surgery, radiation therapy and chemotherapy may be used as a primary treatment.

Radiation Therapy

Radiation therapy uses high-energy beams to kill cancer cells. Radiation therapy is performed by radiation oncologists with significant experience in treating patients with brain and spine tumors.

CLINICAL TRIALS

Clinical trials involve research intended to add to medical knowledge. Patients who qualify and are accepted into a clinical trial receive specific interventions according to the research plan or protocol created by the investigators and approved for clinical studies by the FDA.

Carefully conducted clinical trials are the safest way to compare a new medical approach to improve health. A new product or approach determines whether new ways of using known therapies are safe and effective under controlled environments. The investigators try to determine the safety and efficacy of the intervention by measuring certain outcomes in the participants.

Our partnership with MD Anderson will help us convert their vast knowledge of cancer into the power of prevention, raising awareness of the diseases and promoting healthy lifestyle choices to help people avoid becoming patients.

Ask your doctor whether you might be eligible to participate in a clinical trial.

SUPPORTIVE (PALLIATIVE) CARE

Palliative care is specialized medical care to help provide patients with relief from pain and other symptoms of a serious illness.
EXPLORE YOUR OPTIONS

Clinical Trials at Baptist MD Anderson

At Baptist MD Anderson, we offer clinical trial studies for emerging and innovative therapies for brain and spine tumors. Through a collaboration with MD Anderson Cancer Network, our patients benefit from access to cutting-edge treatments and trials that are shaping the future of cancer care.

We offer select clinical trials with MD Anderson, as well as multiple unique clinical trials from leading pharmaceutical companies, the National Cancer Institute, National Clinical Trials Network, private sector companies and individual physician investigators.
A COMPLETE APPROACH TO CARE

Your Multidisciplinary Team

Our patients benefit from an evidence-based, multidisciplinary approach. That means your team is made up of medical oncologists, radiation oncologists, surgeons and other specialists who together to work on your specific case.

As part of your treatment, you are also assigned a nurse navigator. Our nurses have specialized training in caring for patients with bone and soft-tissue cancer. Your nurse navigator will be there to answer your questions and help you coordinate your appointments.
OUR LOCATION

Brain & Spine Tumor Clinics

Our specialized clinics focus on the complex care needed to treat all aspects of your condition. Within our clinics, we bring together our team of experts to care for you - mind, body and spirit - all under one roof. Our singularly focused clinics include:
Glioma Clinic
Pituitary, Meningioma and Skull Base Clinic
Metastases and Radiosurgery Clinic
Need Directions?
The brain and spine tumor clinic is located in the main Baptist MD Anderson Cancer Center on Floor 1.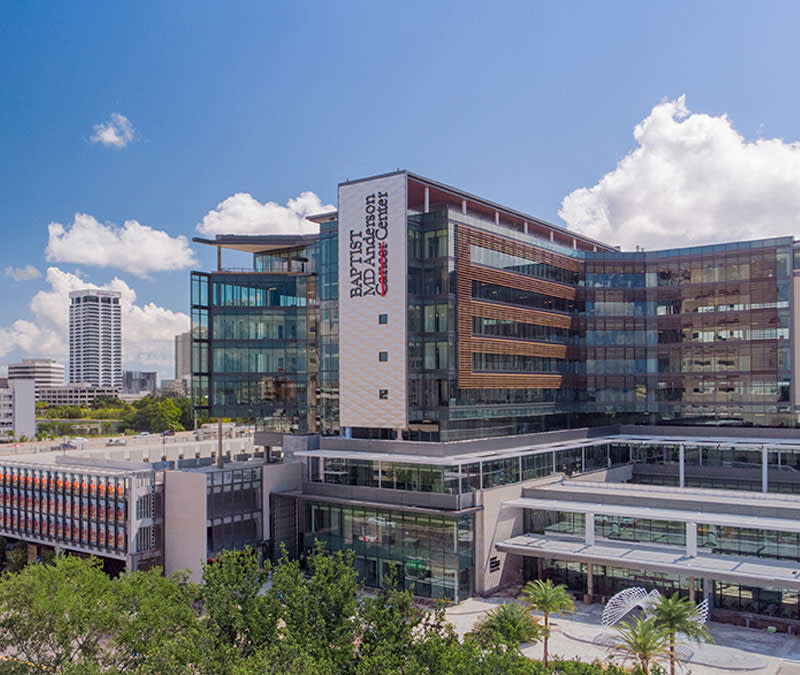 WHAT TO EXPECT AT

Your First Appointment

As a patient of Baptist MD Anderson, you will meet with a medical oncologist. All of our hematology and medical oncologists are subspecialized, meaning we have an expert for your specific type of cancer. Your oncologist will help you understand your diagnosis and develop your individualized care plan in collaboration with other specialists and experts.
FOR WHATEVER STEP IS NEXT,

Baptist MD Anderson is Here for You

Our team of experts are ready to help you navigate the whirlwind of emotions, options and decisions through every aspect of your care.