Cancers We Treat

Finding Gynecologic Cancer Early
UNDERSTANDING GYNECOLOGIC CANCER

Early Detection

Your best defense against cancer is to find it early when treatment is most effective. Gynecologic cancer comes in several forms. Each form of gynecologic cancer comes with its own symptoms, risk factors and treatment plans.

Cervical cancer is the only form of gynecologic cancer with a reliable screening test. Other forms of gynecologic cancer, like ovarian cancer, are much harder to detect. That's why it's vitally important to know the signs and symptoms and see your doctor regularly.

At Baptist MD Anderson, we're committed to MD Anderson's model of outstanding patient care, research, prevention and education. Our goal is to bring world-renowned cancer care to the Southeast and make cancer history.
DETECTING CANCER EARLY

Gynecologic Cancer Symptoms

Symptoms of gynecologic cancer vary. Some individuals may never experience any symptoms. Others have very vague symptoms that are difficult to pinpoint to a particular form of cancer. Keep in mind, some of these symptoms are also common in women who do not have cancer. See your doctor if you have the following symptoms on a daily basis for more than a few weeks:
ovarian
Abnormal menstrual cycles
Back pain for unknown reasons that worsens over time
Bloating or swollen belly area
Difficulty eating or feeling full quickly
Digestive symptoms, such as no appetite, indigestion, nausea and vomiting, constipation, and increased gas
Excessive hair growth that is coarse and dark
Needing to urinate more often than usual (increased urinary frequency or urgency )
Pelvic or lower abdominal pain. The area may feel "heavy" (pelvic heaviness)
Sudden urge to urinate
Vaginal bleeding that occurs between periods
Weight gain or loss
Primary peritoneal
Abdominal discomfort or pain from gas, indigestion, pressure, swelling, bloating, or cramps
Abnormal vaginal bleeding
Loss of appetite or feeling full quickly
Digestive issues like nausea, diarrhea or constipation
Frequent urination
Rectal bleeding
Shortness of breath
Unexplained weight gain or loss
Fallopian
Abnormal vaginal bleeding, especially after menopause
Abdominal or pelvic pain or pressure
Unusual vaginal discharge that is white, clear or tinged with pink
A mass in the pelvic region
Endometrial/Uterine
Abnormal bleeding from the vagina, including bleeding between periods or spotting/bleeding after menopause
Lower abdominal pain or pelvic cramping
Extremely long, heavy, or frequent episodes of vaginal bleeding after age 40
Cervical
Abnormal vaginal bleeding between periods, after intercourse, or after menopause
Vaginal discharge that does not stop, and may be pale, watery, pink, brown, bloody, or foul-smelling
Periods that become heavier and last longer than usual
Vaginal
Bleeding after having sex
Painless vaginal bleeding and discharge not due to normal period
Pain in the pelvis or vagina
Vulvar
Changes in skin
Mole or freckle, which may be pink, red, white, or gray
Skin thickening or lump
Skin sore (ulcer)
Pain or burning with urination
Pain with intercourse
Unusual odor
Gestational Trophoblastic Disease/ Choriocarcinoma
Abdominal swelling
Anemia
Enlargement of the Ovaries
Hyperthyroidism
Ovarian cysts
Pelvic pain or pressure
Pre-eclampsia
Unexplained weight loss
Irregular vaginal bleeding
Vomiting
ASSESSING YOUR RISK

What is a Risk Factor?

Risk factors are genes, lifestyle choices, conditions or exposures that may increase someone's risk for developing cancer.

At Baptist MD Anderson, we offer genetic counseling services. Genetic counseling helps assess if you or your family have any inherited cancer syndromes or cancer predisposition. If you or your family have any of the following in you or your family's medical history, we offer support. Our gynecologic cancer experts can provide your with a risk assessment and cancer prevention counseling.
General Risk Factors of Gynecologic Cancers
Here are a few common and general risk factors for gynecologic cancers:
Persistent HPV infection
Smoking
Age (60+)
Hypertension or high blood pressure
Being overweight or obese
Taking estrogen alone without progesterone
Diabetes or high blood glucose
Late menopause
Family history of ovarian, breast, or colon cancer
Infertility or not bearing children
Having had breast cancer
GET AHEAD OF CERVICAL CANCER

Your Care Starts with Screening

Screening is your greatest weapon against cervical cancer. Screening improves your chances of finding cancer early when it is easier to treat. Cervical cancer is the only gynecologic cancer screening currently available. Make sure to schedule regular Pap test appointments to detect any changes in your health or detect early signs of cancer.
OUR LOCATION

Gynecologic Cancer Clinic

Within our specialized clinics we bring our team of experts together to care for your mind, body and spirit. Each of our clinics are singularly focused on your specific needs and treatment.

Need Directions? The gynecologic cancer clinic is located in the main Baptist MD Anderson Cancer Center on Floor 7 of our cancer center.

For screening and prevention, services are located across the street: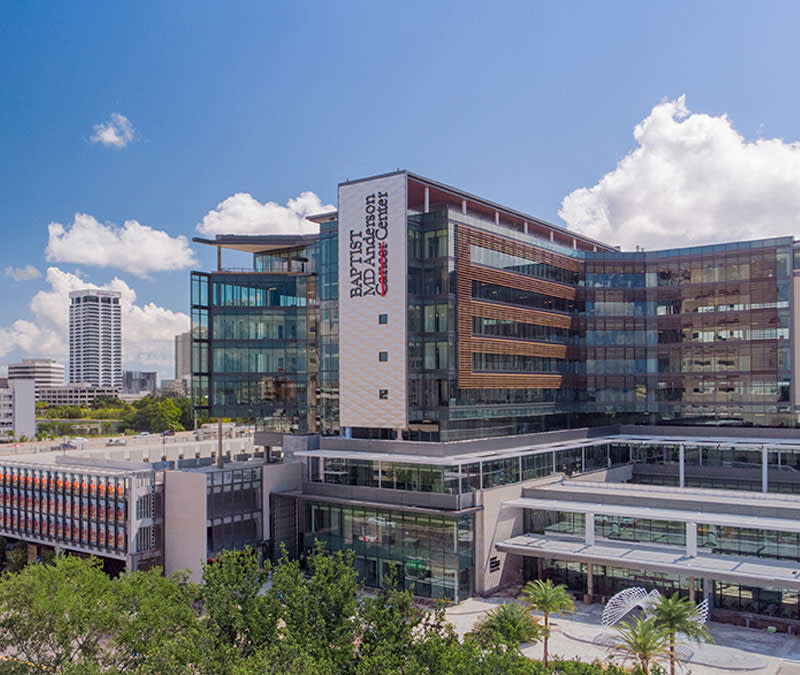 FOR WHATEVER STEP IS NEXT,

Baptist MD Anderson is Here for You

Wherever you are in your journey, we're here to help you in your fight against cancer. Our team of experts can help you navigate the whirlwind of emotions and decisions through every aspect of your care.