Cancers We Treat

Urologic Cancer Diagnosis
DOING THE RESEARCH

Learn More About Your Diagnosis

Wherever you are in this journey, we are here to help you process everything you need to know in a supportive and informative way.

At Baptist MD Anderson Cancer Center in Jacksonville, Florida, our team of highly-trained medical professionals, made up of experienced oncologists, radiologists, surgeons and nurses, we believe knowledge is power. Our patients receive care based on the same protocols and practice standards provided at MD Anderson Cancer Center.

We make it our job to continually research and understand every aspect of cancer so that we can gently guide you through your care.
DEFINING, DIAGNOSING AND TREATING

Urologic Cancer

Urologic cancer refers to a group of different forms of cancer and each one is unique in the way it behaves or side effects it causes. That's why it is essential for cancer centers to work together as a team. Your cancer team at Baptist MD Anderson is made up of highly-trained specialists from multiple medical fields to make sure your treatment plan is tailored to you.
BLADDER CANCER

WHAT IS BLADDER CANCER?

Bladder cancer is a cancer that starts in the bladder. The bladder is the body part that holds and releases urine. It is in the center of the lower abdomen. In the United States, bladder cancer often starts from the cells lining the bladder. These cells are called transitional cells.

These tumors are classified by the way they grow:

Papillary tumors look like warts and are attached to a stalk.
Nonpapillary (sessile) tumors are flat. They are much less common. But they are more invasive and have a worse outcome.

The exact cause of bladder cancer is not known.

KIDNEY CANCER

WHAT IS KIDNEY CANCER?

Renal cell carcinoma is a type of kidney cancer that starts in the lining of very small tubes (tubules) in the kidney.

Renal cell carcinoma is the most common type of kidney cancer in adults. It occurs most often in men 50 to 70 years old.

PENILE CANCER

WHAT IS PENILE CANCER?

Penile cancer is cancer that starts in the penis, an organ that makes up part of the male reproductive system.

Cancer of the penis is rare. Its exact cause is unknown. However, certain risk factors include:

Uncircumcised men who don't keep the area under the foreskin clean. This leads to buildup of smegma, a cheese-like, foul-smelling substance under the foreskin.
History of genital warts, or human papillomavirus (HPV)
Smoking
Injury to the penis

The cancer usually affects middle age and older men.

PROSTATE CANCER

WHAT IS PROSTATE CANCER?

Prostate cancer is a cancer that starts in the prostate gland. The prostate is a small, walnut-shaped structure that makes up part of a man's reproductive system. It wraps around the urethra, the tube that carries urine out of the body.

Prostate cancer is rarely found in men younger than 40 and less common in people who do not eat meat (vegetarians).

A common problem in almost all men as they grow older is an enlarged prostate. This is called benign prostatic hyperplasia, or BPH. It does not raise your risk of prostate cancer. But, it can increase your prostate-specific antigen (PSA) blood test result.

TESTICULAR CANCER

WHAT IS TESTICULAR CANCER?

Testicular cancer is any form of cancer that starts in the testicles. There are many types of cells in the testicles. Any of these kinds of cells can develop into cancer. Depending on which cell cancer starts to grow determines the type of testicular cancer.

Germ cell tumors are the main type, accounting for more than 90% of testicular cancer. These cells make sperm.

Stromal tumors start in the stroma, which is the testicles' hormone-producing tissues. This form of testicular cancer is much more rare in adults than in children.

URETHRAL CANCER

WHAT IS URETHRAL CANCER?

Urethral cancer is when cancer cells form in the urethra, which is the tube where urine travels through from the bladder. In men, the urethra also carries semen. There are a few types of cancer that can form in the urethra lining, including:

Squamous cell carcinoma, which is most common
Transitional cell carcinoma
Adenocarcinoma
GETTING THE RIGHT DIAGNOSIS

Second Opinions

A second opinion can be a game-changer for patients. While it is rare for a diagnosis to change from malignant to benign, a second opinion may reveal other information. Our team verifies whether your staging is correct, your tumor size is correct and your overall assessment is correct. All of these factors can affect which treatment options you are offered.
OUR LOCATION

Genitourinary (GU) Cancer Clinic

Within our specialized, multidisciplinary clinics, we bring together our team of experts to care for your mind, body and spirit - all under one roof. Each of our clinics are singularly focused on your specific needs and treatment.

Need Directions? The genitourinary (GU) cancer clinic is located in the main Baptist MD Anderson Cancer Center on Floor 6.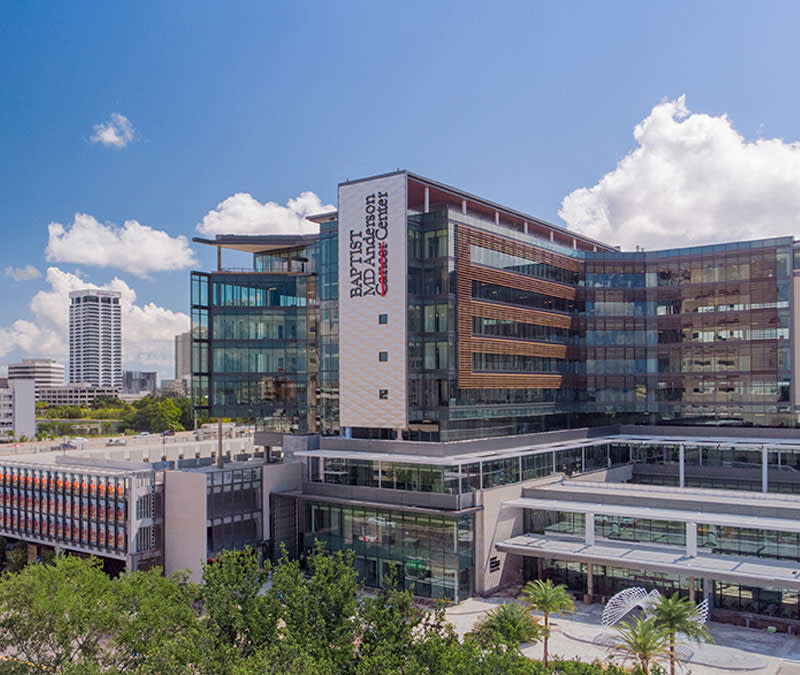 FOR WHATEVER STEP IS NEXT,

Baptist MD Anderson is Here for You

Wherever you are in your journey, we're here to help you in your fight against cancer. Our team of experts can help you navigate the whirlwind of emotions and decisions through every aspect of your care.