Cancers We Treat

Treating Urologic Cancer
CARING FOR THE WHOLE PERSON

Urologic Cancer Treatment

Having cancer is a life-changing experience for each individual patient, and their family and friends. At Baptist MD Anderson, we know the best cancer treatments are those that are tailored specifically to you by a multidisciplinary team.

As part of our approach, patients receive care based on the same processes and practice standards provided at MD Anderson Cancer Center and benefit from integration with MD Anderson clinicians and researchers.

You and your team of specialists work together to choose a cancer treatment plan for you, based on your overall health, the type of cancer, and your own preferences.

Together, we're leading the local fight against cancer.
UROLOGIC

Common Treatments

At Baptist MD Anderson, we're ready to fight for you every step of the way. Based on your diagnosis, your team of doctors, nurses and specialists will work with you to explore treatment options and create a plan that meets your needs. You will also have a nurse navigator, who has specialized training in caring for patients with urologic cancer, to answer your questions and help you coordinate your appointments.

Your personalized treatment recommendations will be based on:
The type, subtype and stage of your cancer
Your health history
Your personal goals
One or more of the following therapies may be recommended to treat your cancer or help relieve symptoms.
Surgery

Surgery is generally the first step in trying to remove as much cancer as possible. If cancer cells remain, they may grow and spread. To help ensure the cancerous cells are gone, the surgeon may remove a portion margin of healthy tissue around the cancer as well.

Chemotherapy

Chemotherapy uses drugs to kill cancer cells. Chemotherapy drugs can be taken in pill form or through a vein. Chemotherapy may be used before surgery to shrink the tumor, making it easier to remove, or may be used after surgery to kill any cancer cells that might remain. It is sometimes combined with radiation therapy for aggressive cancers.

For people who can't undergo surgery, radiation therapy and chemotherapy may be used as a primary treatment.

Radiation Therapy

Radiation therapy is performed by radiation oncologists with significant experience in treating patients with urologic cancer. Radiation therapy uses high-energy beams to kill cancer cells.

Targeted Therapy

Targeted therapy is a type of treatment that uses drugs or other substances to attack cancer cells. These drugs using small molecules to block pathways cells use to survive and multiply.
EXPLORE YOUR OPTIONS

Clinical Trials at Baptist MD Anderson

At Baptist MD Anderson, we offer clinical trial studies for emerging and innovative therapies for urologic cancers. Through a collaboration with MD Anderson Cancer Network, one of the world's largest and most respected cancer centers in America, Baptist MD Anderson Cancer Center patients benefit from access to cutting edge treatments, new technologies and clinical trials shaping the future of cancer care.

We offer select clinical trials with MD Anderson, as well as multiple unique clinical trials from leading pharmaceutical companies, the National Cancer Institute, National Clinical Trials Network, private sector companies and individual physician investigators.
A COMPLETE APPROACH TO CARE

Your Multidisciplinary Team

Our patients benefit from an evidence-based, multidisciplinary approach. That means your team is made up of medical oncologists, radiation oncologists, surgeons and other specialists who together to work on your specific case.

As part of your treatment, you are also assigned a nurse navigator. Our nurses have specialized training in caring for patients with urologic cancer. Your nurse navigator will be there to answer your questions and help you coordinate your appointments.
OUR LOCATION

Genitourinary (GU) Cancer Clinic

Within our specialized, multidisciplinary clinics, we bring together our team of experts to care for your mind, body and spirit - all under one roof. Each of our clinics are singularly focused on your specific needs and treatment.

Need Directions? The genitourinary (GU) cancer clinic is located in the main Baptist MD Anderson Cancer Center on Floor 6.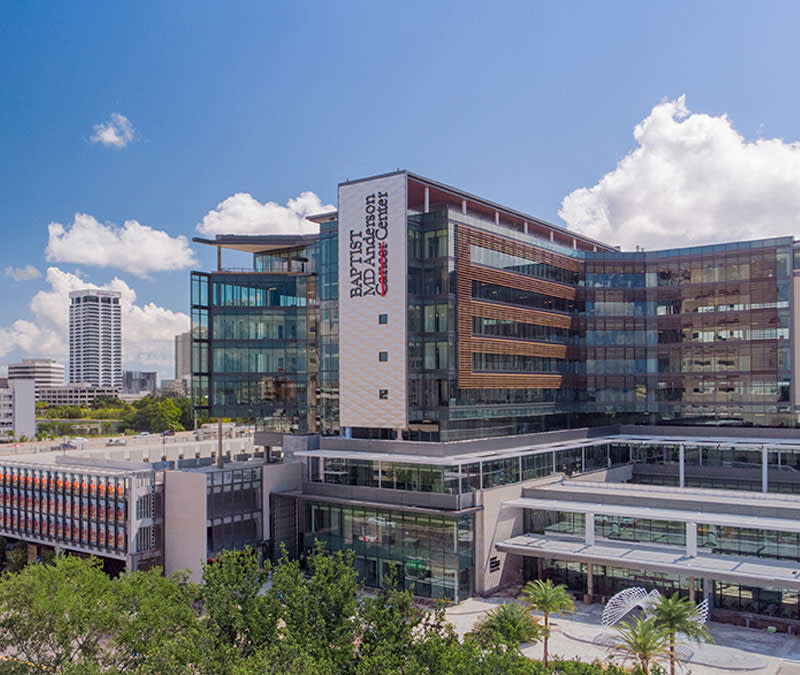 WHAT TO EXPECT AT

Your First Appointment

As a patient of Baptist MD Anderson, you will meet with your physician. Your oncologist will help you understand your diagnosis and develop your individualized care plan in collaboration with other specialists and experts.

When you arrive, one of our staff members will take your height, weight and vital signs. Your physician will also perform a pelvic exam. You may be asked to do some lab work before your visit. One of our providers will review your medical history, any recent side-effects you may have experienced and any medications you are currently taking.
FOR WHATEVER STEP IS NEXT,

Baptist MD Anderson is Here for You

Wherever you are in your journey, we're here to help you in your fight against cancer. Our team of experts can help you navigate the whirlwind of emotions and decisions through every aspect of your care.